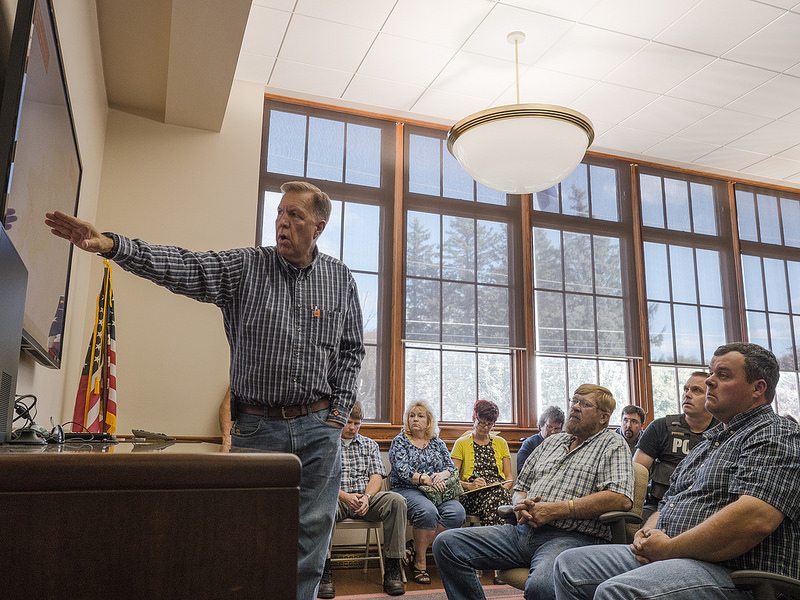 Scott Blauvelt, Director of JKLM Regulatory Affairs and hydrogeologist, explains the plume of pollution from a JKLM fracking well pad to an audience at a special meeting in Coudersport, PA. © Joshua B. Pribanic for Public Herald
Three months after Public Herald broke the story about the contamination of groundwater sources for public and private water supplies in Potter County, Pennsylvania…99% of our most critical questions are still unanswered.
But we're not giving up – that's why we'll be submitting a list of 21 questions again tomorrow morning (Thurs. 12/17) at a public meeting of the Potter County Natural Gas Resource Center where the state Department of Environmental Protection (DEP) and JKLM Energy will update the public about their ongoing water contamination investigations at the Gunzburger Building, 1 N. Main St. in downtown Coudersport, from 10 a.m. to noon.
These questions have been submitted to DEP, JKLM and county officials in multiple formats since September. They're available here for print and download (click 'File' in the upper left for options.)
Question #1 has our most anticipated answer:
Although JKLM has regularly reported the results of 3 parameters of their testing (isopropanol, MBAS, and acetone), we still do not have a full list of the chemical compounds that were injected into the uncased well bore.  As originally reported in Public Herald, isopropanol constitutes only 10-15% of the surfactant formula.  (www.publicherald.org/north-hollow)  What are the remaining chemicals of that formula?  And what are the chemical compounds of Rock Drill Oil, which was also used?
Please add any questions you may have in the comment section of this article.