Two Dimock, Pa. families who battled water contamination related to shale gas extraction – otherwise known as fracking – for nearly eight years won a $4.24 million nuisance verdict this week against Cabot Oil and Gas. As one of the highest profile water contamination cases in the United States, the ruling shocked plaintiffs, witnesses, and attorneys alike.
[left to right] Daughter of Ray Hubert, Elisabeth (Beth) Radow, Monica Marta-Ely (plaintiff), Scott Ely (plaintiff), Leslie Lewis (lead attorney), Ray Hubert (plaintiff), Lewis's sister, and Victoria Hubert (plaintiff) stand together after a $4.24M nuisance victory against Cabot Oil and Gas for water contamination to their homes in Dimock, Pa. © Courtesy of Vera Scroggins
Why were they shocked? I spoke with Dr. Anthony Ingraffea, a key expert witness in the trial, who said Cabot Oil & Gas "masterfully emasculated" evidence for the case.
"When this case began, it included water contamination, health impacts, loss of property value and nuisance. By the time Cabot's attorney's were done, the case was whittled down to nuisance," Ingraffea said.
According to Ingraffea and others at the trial, no one was allowed to talk about the violations state regulators levied against Cabot, a total of 610 from 2009 to date, or anything contained in the four Consent Orders issued ordering Cabot O&G to replace contaminated water supplies.
"That means all documentation regarding water contamination, the moratorium on drilling inside a 9-mile square area where drinking water wells were polluted, and activities or problems at any other wells operated by Cabot besides the two gas wells implicated in this case – all of that evidence was forbidden," Ingraffea explained.
"I even tried to use one of Cabot's own maps of the contaminated area, showing where the company's gas wells were in relations to drinking water wells. They wouldn't let me use it."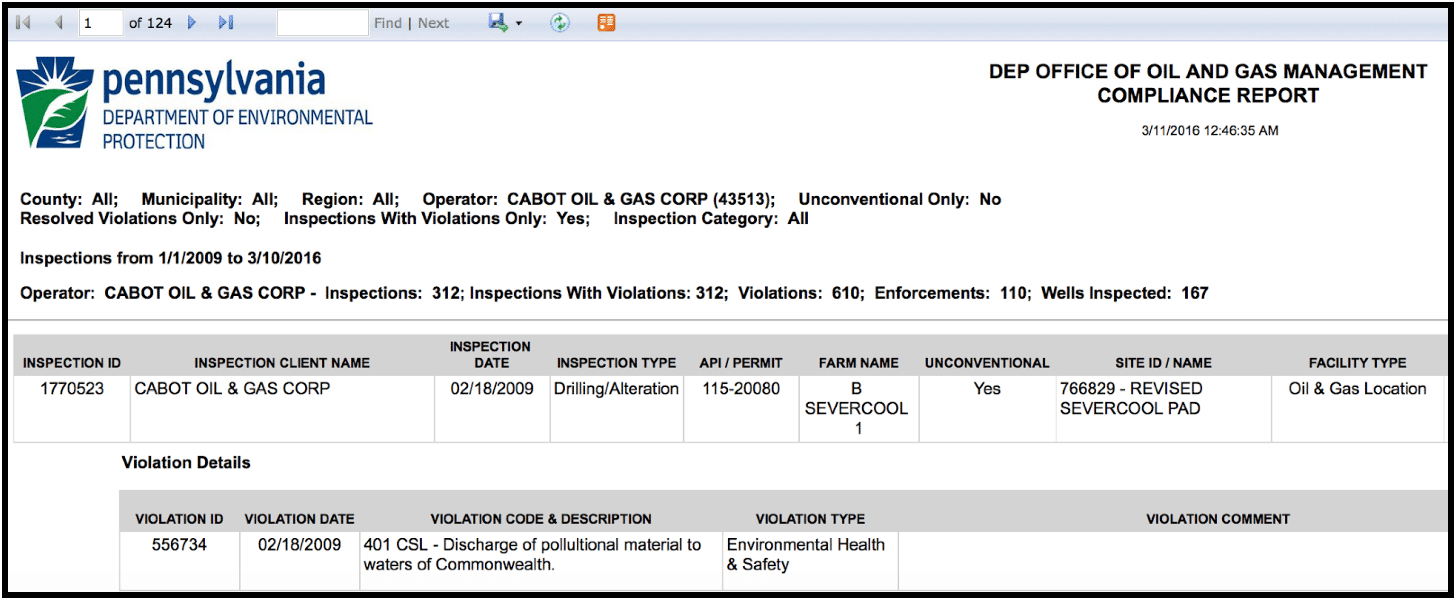 You can access

PA DEP's Compliance Reports here

. Select "Cabot Oil & Gas" under "Operator" and see for yourself that Cabot has amassed 610 violations since 2009, none of which were permitted as evidence in the Ely/Hubert Dimock trial.
The suppression of evidence is a reoccurring theme for oil and gas companies who mainly use 'non-disclosure agreements' to settle cases out of court. Pennsylvania oil and gas law Act 13 also allows for what boils down to gag orders, on doctors who treat patients for suspected health problems related to fracking development. Both eliminate transparency for public record on the development of shale gas. With Dimock's case, it begs the question of how large the verdict would have been if all evidence appeared in the courtroom.
When I asked Ingraffea what role state and federal regulators involved in the case played, Ingraffea replied, "The agencies responsible for protecting people in these situations chose not to participate. That's why the families had to sue in the first place."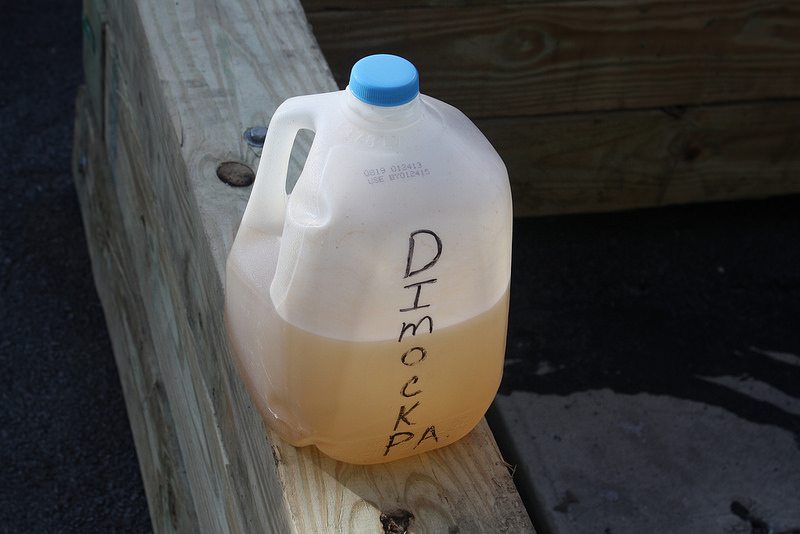 A jug of dirty water from Dimock, Pa. that residents say was caused by fracking. © SutainUS courtesy of Flickr Creative Commons
Showing you, dear reader, the controversial timeline of the Dimock case would take pages. Instead of rehashing Dimock's history of being pummeled by industry and abandoned by state and federal government, let us put the corruption and negligence in Dimock's case in context with thousands of other potential water contamination cases in Pennsylvania –  data that's been covered up and ignored by PA DEP, US EPA, and mainstream media.
These cases are now available online courtesy of the #fileroom project (PublicFiles.org) and the investigative team at Public Herald. Read my editorial and oral testimony to US EPA about the agency ignoring thousands of water complaints.
The Dimock water contamination case began like most do – with a complaint. After Pennsylvania Department of Environmental Protection (PA DEP), who regulates oil and gas in the Commonwealth, receives a complaint, an investigation begins. That's how Dimock got started, but like Dimock, complaint cases are filled with twists and turns.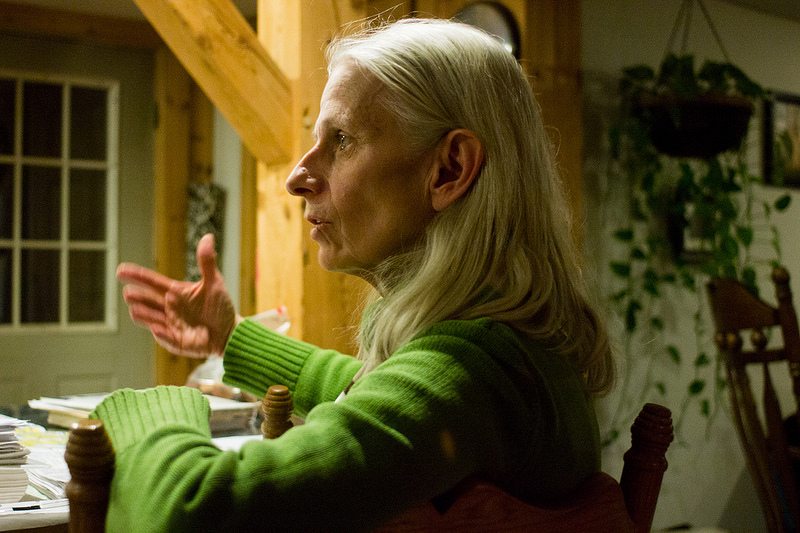 Carolyn Knapp tells Public Herald in 2014 how PADEP lied to her daughter's family about the 'presumption of liability' law which would have made the gas company provide water during a month long complaint investigation. You can read her families story in Part 1 of 9 of the INVISIBLE HAND series. © Joshua B. Pribanic for Public Herald
When Public Herald first investigated Dimock files in 2011 asking for all complaint investigation records related to oil and gas development since fracking took hold in 2004, state regulators informed journalists Joshua Pribanic and myself that there was no aggregate of that data. Not taking no for an answer, it took our team over two years to collect the records. Today, here's what that data looks like for an area like Dimock, Pa.:
Susquehanna Co. Complaint Map by Public Herald & FracTracker Alliance. Contamination complaints are mapped by township – Dimock is the dark red block in the bottom left quadrant.
When we did finally get the records, we published a groundbreaking complaint report that discovered the number of contamination cases listed by PA DEP is far too low.
After analyzing 200 cases, Public Herald found nine ways that PA DEP ignores water contamination, leaving it "off the books." As soon as Public Herald released its complaint investigation, along with 2,309 cases across Pennsylvania mapped by county and township, Dr. Ingraffea took up the data and used it to illustrate issues related to his own research.
"The release of these records is invaluable. Mapping them shows where the threat of pollution is greatest, and many of these cases need to be reexamined" Dr. Ingraffea said of Public Herald's report back in September 2015.
Since Dimock's verdict has dropped, the complaint investigation records at PublicFiles.org and the analysis by investigative journalists at Public Herald are more valuable than ever. There are hundreds more cases of water contamination Governor Tom Wolf and his PADEP secretary, John Quigley, need to be transparent about and address immediately. The truth is in the complaint records, the trouble is getting PADEP and industry to have enough integrity to look at it.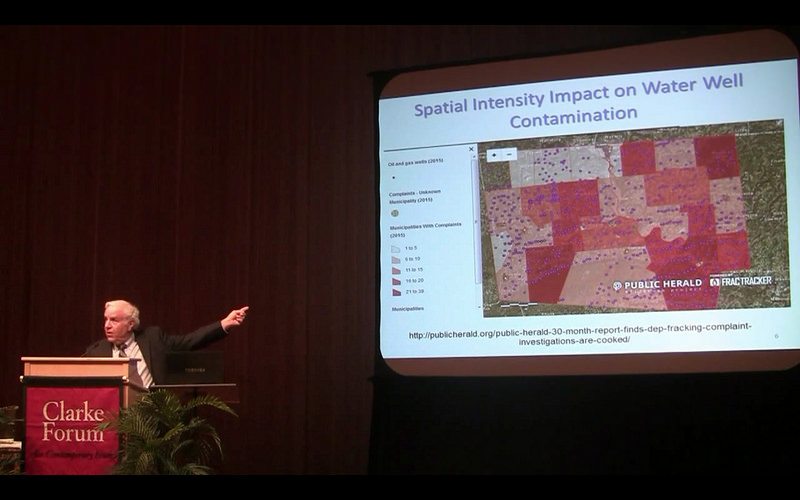 Dr. Anthony Ingraffea points to a map of Bradford County, Pennsylvania pollution complaints created by Public Herald and FracTracker Alliance using data from Pennsylvania Department of Environmental Protection. Ingraffea is speaking on spatial density impacts on water well contamination related to fracking. See the map and 520 complaint records at PublicFiles.org.
Pennsylvania Governors Rendell, Corbett and now Tom Wolf have praised fracking as a cash cow for the Commonwealth. And no one likes to look a cash cow in the mouth, especially when it's been drinking contaminated water. (See John Platt's piece about contaminated cows from 2012, or Pro Publica's 2009 story.)
But someone's gotta do it. Someone has to have the courage and integrity like these two Dimock families who said, "enough is enough."
Joshua B. Pribanic contributed to this newsCOUP, follow @jbpribanic
"newsCOUP" are stories, photographs, videos from ongoing investigations in the Public Herald newsroom.
Record of Dimock Trial Verdict courtesy of Vera Scroggins